Bilder zum vergrössern anklicken

FENDER PRO RELIC CUSTOM SHOP TELECASTER
NUR 20 STK. WELTWEIT!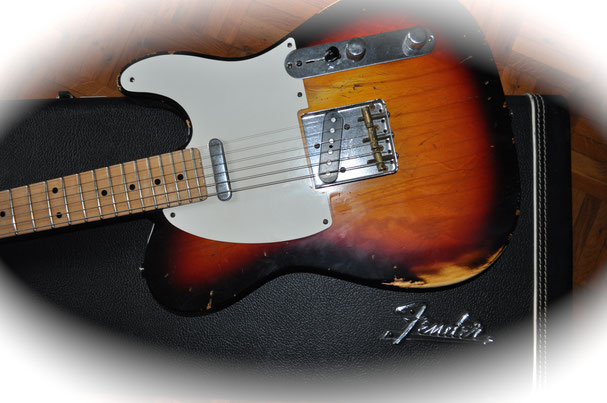 Eine von weltweit 20Stk. in sunburst (die anderen waren daphne blue) gebauten Fender Custom Shop Pro Relics. Mit original Koffer. Top Gitarre in top Zustand.
                                       Dazu die Fakten von Fender:
                                            Alder Body
                                Custom Shop twisted Neck Pickup
                             Samarium Cobalt Noiseless Bridge Pickup
                                   Premium Ash Neck C Shape
                                   Fender Custom Mechaniken
                                     22 Medium Jumbo- Frets
                                          5- Way Switch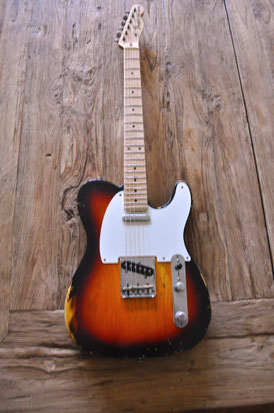 Fender Pro Relic Custom Shop Telecaster  +  original Case
                   VERSANDKOSTEN SCHWEIZ/ LICHTENSTEIN/DEUTSCHLAND CHF 29.00
CTR PRO 90 N
Swiss made 2009 Custom Guitar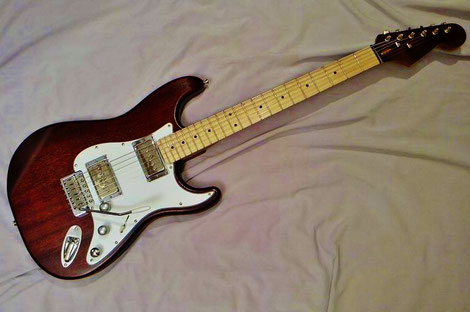 Mahagoni Body -Mahagoni Neck -Maple Fretboard 12" Radius -22 Frets -Nitrofinish satin     
      -Cetera 90 N Pickup-Set (P-90 Replicas Humbuckersize) -Wilkinson Tremolo with Steelsaddles
Showroom Guitar, Custombuilt.

Barely used, normal Wear
MIT KOFFER

Case incl.
CHF 790.00
statt 2450.00
VERSAND SCHWEIZ/ LICHTENSTEIN CHF 29.00
PLEASE ASK FOR SHIPPINGQUOTE
CTR PRO 90 N
nur noch begrenzte Anzahl vorhanden
1 - 3 Tage Lieferzeit1
FENDER SQUIER STRATOCASTER
Original 1983
MADE IN JAPAN (FUJI GEN FACTORY)
Top guitar with incomparable twang sound. 100% original. This Strat plays fantastic and is one of the rare SQ-Series Squire, which were equipped with Alnico V pickups, Fender USA stopped the production in Japan at the end of 1983, because these models blamed the US made Strats.

The 34 years have left almost no traces. Thus also for collectors and guitar historians a bargain.
Condition: Except for a small scratches on the paintwork (not wood, see Figure 5) only slight traces of wear.
Comes with Fender Japan case from the '80s.
 Top Gitarre mit unvergleichbarem drahtig, twangigem Sound. 100% original. Diese Strat spielt sich traumhaft und ist eine der seltenen SQ- Series Squire, die mit Alnico V Pickups bestückt wurden, Fender USA hat ende 1983 die Produktion in Japan gestoppt, denn diese Modelle liessen und lassen jede US- Strat alt aussehen. Die ab 1984 hergestellten Squier- Modelle by Fender waren nur noch ein Schatten ihrer Selbst.
Die gut 34 Jahre haben fast keine Spuren hinterlassen. Somit auch für Sammler und Gitarrenhistoriker ein Schnäppchen.
 Zustand: Bis auf einen kleinen Lackabplatzer (nicht Holz, siehe Bild 5) nur leichteste Gebrauchsspuren.
Kommt mit Fender- Japan Koffer aus den '80er Jahren.
Vintage- Strat für den Kenner:
Alder Body
Alnico 5 Pickups3- Ply Pickguard
One Piece Maple Neck C Shape
Fretboard 9,5" Radius
Fender Mechaniken
21 Jumbo- Frets
5- Way Switch
ALLES ORIGINAL UND NICHTS VERBASTELT
 SOLD/ VERKAUFT